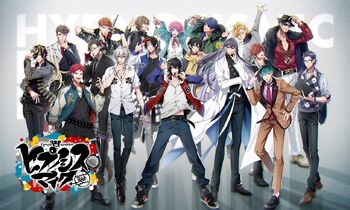 Hypnosis Mic -Division Rap Battle- (ヒプノシスマイク-Division Rap Battle-) is a Japanese multimedia project, based off rap and hip-hop, created by King Records under their EVIL LINE RECORDS label. The characters were designed by Idea Factory under their Otomate label, with Yuichiro Momose as the main scenario writer. The project had started on September 2, 2017.
The project was initially based around four rap teams, Buster Bros!!!, MAD TRIGGER CREW, Fling Posse, and Matenro. In September 2019, two new teams, Dotsuitare Hompo and Bad Ass Temple had debuted.
The franchise has grown to include manga adaptations, live stage production, a mobile game, and an upcoming anime adaptation.
Synopsis
The history of H was eradicated by an armed military force in a war. The conflict was replaced, not by the military forces, but by a special device mesmerizing the psyches of the people. Its name is Hypnosis Microphone.
The lyrics channeled through this microphone affects people's sympathetic and parasympathetic nervous system​s, making it possible to alter a person's state of mind.
Rap is used to determine one's superiority.
Outside of the Chuohku District, men live in the Shinjuku, Shibuya, Ikebukuro, Yokohama, Osaka, and Nagoya Divisions.
As each division's representative MC group fought, the districts who won were allowed to acquire certain parts of other territories.
In this world, where words, not weapons, became tools of power, the battles for territories holding men's pride and prestige begins.
Story
In the wake of the Third World War that eradicated the fifth of humanity, the government of Japan was overthrown and replaced by the Party of Words, using Hypnosis Mics. The Party of Words had split the country into so-called "Divisions", the only parts of the country where men were allowed to live, with the Chuohku District as the center. That's how the H Era began.
They handed out the mics to the men, allowing them to participate in the rap battles for the territory, which had almost started a turf war to rule the country. Around that time, the legendary rap group, The Dirty Dawg, consisting of Ichiro Yamada, Samatoki Aohitsugi, Ramuda Amemura and Jakurai Jinguji rised. They took over the entire country, being right after the Party of Words, however, one day, the group disbanded and former friends turned into enemies.
Years later, the Party of Words organized the Division Rap Battle, the grand championship between Divisions' representatives where they can't fight each other for money, territory, and prestige. The former members of The Dirty Dawg had formed their own teams to represent their home Division:
Eventually, they were joined by the two new teams:
Characters
Characters

Divisions

Ichiro Yamada • Jiro Yamada • Saburo Yamada
Samatoki Aohitsugi • Jyuto Iruma • Rio Mason Busujima
Ramuda Amemura • Gentaro Yumeno • Dice Arisugawa
Jakurai Jinguji • Hifumi Izanami • Doppo Kannonzaka
Sasara Nurude • Rosho Tsutsujimori • Rei Amayado
Kuko Harai • Jyushi Aimono • Hitoya Amaguni
Kazusato Doan • Ryozan Kokuri • Kenei Saragi
Jinpachi Ho-Zuki • Masamune Komagata • Doshiro Yogo

Chuohku District

Otome Tohoten • Ichijiku Kadenokoji • Nemu Aohitsugi
Alternative Rap Battle
Rokuro Doudantsutsuji • Amiria Nakiri • Naozari Kanukutyou
Other Characters
Cast & Staff
For all actors, track makers and staff members, working on the Hypnosis Mic, see here.
Music
Music

I Am Ichiro • This Means War • New star
G anthem of Y-CITY • Bayside Smoking Blues • What's My Name?
Labyrinth Wall • Champagne Gold • Tigridia
drops • Scenario Liar • 3$EVEN
WAR WAR WAR • IKEBUKURO WEST GAME PARK • Yokohama Walker
BATTLE BATTLE BATTLE • Shibuya Marble Texture -PCCS- • Shinjuku Style ~Don't Make Us Laugh~
DEATH RESPECT • IKEBUKURO WEST GAME PARK (Boyz Sunshine remix) • Yokohama Walker (Triple Trippin' remix) • Shibuya Marble Texture -PCCS- (Candy Dazed remix) • Shinjuku Style ~Don't Make Us Laugh~ (Nerve Rackin' remix)
The Champion • T.D.D LEGEND
Hoodstar • Division Rap Battle • Good Morning, Ikebukuro • Money Maker (Dead Pools) • Stella • Papillon • Division Battle Anthem
Ah, Osaka Dreamin' Night • Tragic Transistor • Own Stage • FACES
Bad Ass Temple Funky Sounds • Sougyaran BAM • Moonlight Shadow • One and Two, and Law
Break The Wall • School of IKB • Requiem
Gangsta's Paradise • Uncrushable • 2DIE4
Pink-Colored Love • Calyx • SCRAMBLE GAMBLE
You Are, Therefore I Am • Don't Stop The Party • BLACK OR WHITE

Other

Rule the Stage
Gimme The Mic • Counterfeit Busters • Trigger Off • We Are North Bastard • Don't Pass The Mic • Trap of Fling • Crush Your Mic
Manga Specials
Nausa de Zuiqu • BB's City • Wrap&Rap ~3 Minutes Vibe Cooking~ • LESSON • Private Time • Once Upon a Time in Shibuya
EZ DO RAP • The Three Musketeers Mic Relay • Alternative Rap Battle • Division Rap Battle+ • Division Battle Anthem+ • Survival of the Illest • SUMMIT OF DIVISIONS • Femme Fatale • Rhyme Anima
Drama Tracks
More details: List of Drama Tracks
The story of Hypnosis Mic is mainly told through the audio drama tracks included with each CD release (except MAD TRIGGER CREW VS Matenrō) beginning with the current divisions getting together and continuing the plot from there.
Manga
There are four different series of manga adaptations of Hypnosis Mic. All of their scenarios are written by Yuichiro Momose. Some limited editions of manga also include exclusive duet songs and drama tracks.
Live Events
A series of stage productions that feature various divisions within the Hypnosis Mic franchise, titled Hypnosis Mic -Division Rap Battle- Rule the Stage, was announced in September 2019.
The first production, titled -Track.1-, featuring Buster Bros!!!, MAD TRIGGER CREW, and North Bastard, ran from November 15, 2019, to December 1, 2019
The second production, titled -Track.2-, featuring Fling Posse, Matenrō, and Onigawara Bombers, will run in August 2020.
The third production, titled -Track.3-, featuring Dotsuitare Hompo and Bad Ass Temple, will run in October 2020.
Game
A mobile rhythm game, titled Hypnosis Mic -Alternative Rap Battle-, developed by Otomate and published by Idea Factory, was released in March 2020.
Anime
An anime adaptation titled Hypnosis Mic -Division Rap Battle- Rhyme Anima is scheduled for release in October 2020.
Radio
From October 2019 to March 2020, Tokyo FM was hosting radio show titled Hypnosis Radio on Spotify, featuring Hypnosis Mic characters answering fan questions and interview with composers. Daichi Yajima served as the MC.
Battle Season is a project requiring user participation to vote for teams that battle it out on their respective albums. Those that buy the first press edition of the CDs or purchase select official merch are eligible to vote via the website using a code that comes with the merch.
Tours
Hypnosis Mic: Division Rap Battle: 1st Live at Ikebukuro (2017)
Hypnosis Mic: Division Rap Battle: 2nd Live at Shinagawa (2018)
Hypnosis Mic: Division Rap Battle: 3rd Live at Odaiba (2018)
Hypnosis Mic: Division Rap Battle: Welcome to Our Hood: 4th Live at Osaka (2019)
Hypnosis Mic: Division Rap Battle: SIX SHOTS UNTIL THE DOME: 5th Live (2020; live stream)
Character Relationships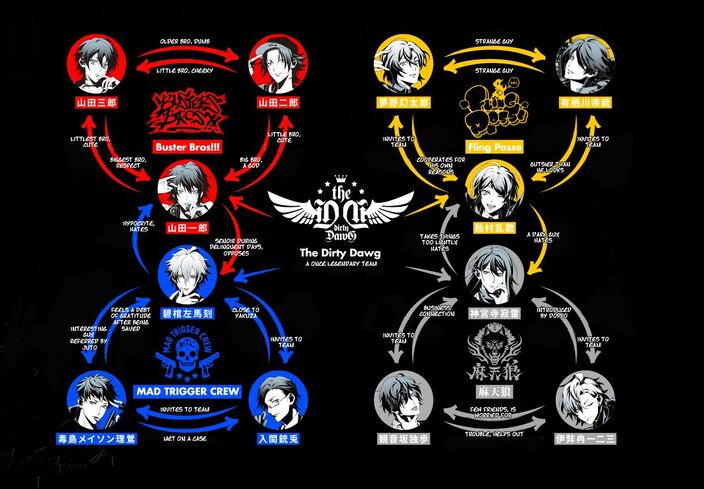 Community content is available under
CC-BY-SA
unless otherwise noted.