Welcome to the Division!

⚡ Battle Season Champions! ⚡

Congratulations to the winners of the final battle in the first battle season,
Matenrou
!
It was a tough battle and the votes were very close. In the end, Matenrou won with a 929 vote lead. Although
MAD TRIGGER CREW
lost, please show their voice actors a lot of support, including the voice actors for
Buster Bros!!!
and
Fling Posse
! Let's go full-blast into the next battle season, and root for our favorite divisons!
The champions, Matenrou, will receive a new CD and a ton of new merch, so keep your eyes peeled!
---
✨ Extra Links ✨
MAD TRIGGER CREW VS Matenrō | DEATH RESPECT | Battle Season
🎸 Featured Article 🎸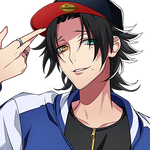 "
Saburo! Ichiro's watching anime right now, so don't go fuckin' interrupting him!
"
Jiro Yamada
is a member of
Buster Bros!!!
and a high school delinquent. Like his younger brother Saburo, he praises their older brother and team leader Ichiro. He aspires to follow in his Ichiro's footsteps and even wanted to drop out of school, but Ichiro told him to at least finish high school. Despite his neverending love for the eldest of the three, he often argues with Saburo and they constantly fight.
Which Enter the Hypnosis Microphone CD are you planning to buy?
Featured Announcement